Tree Surgeon Whitleigh
If you're looking for a local tree surgeon in Whitleigh then look no further than C&H Tree Surgery. We've been in business for over a decade and have helped hundreds of people ensure their outdoor spaces are maintained, revived, and rid of trees that are becoming problematic in any way. Our team has a wealth of experience and knowledge in tree surgery so we'll definitely be able to sort out a solution for your project. 
We carry out several different services which cover anything from removing a tall tree to removing a huddle of rubble at the end of your garden. One thing remains, however, whatever the project is, and that's health and safety standards as well as overall quality.
Tree Removal Whitleigh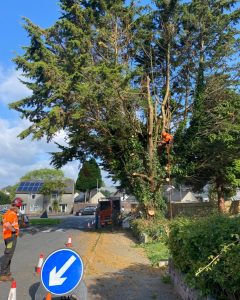 Tree removal is an integral part of maintaining your outdoor spaces and ensuring the longevity of nature and the wildlife around it. There may be several actual reasons why tree removal becomes necessary. One, a tree may be majorly overgrown in a residential area, potentially falling at any given moment. This could cause damage to properties or people. Two, a tree may be in the way of a development site being an obstruction to further works. Three, a tree may be diseased, and to stop further trees around it from becoming infected, the tree must be professionally removed.
The list of reasons doesn't stop there either, but you get the gist.  Whatever the reason for the tree needing removal, we always have one main concern before taking any action and that's regarding safety. No project will be done before a full check of the area and safety measures are put in place. We use heavy and potentially dangerous machinery and wood chippings can often fly around so the appropriate safety workwear is required too. In addition, to give you peace of mind, all our staff members have the latest safety qualifications and accreditations too.
Tree Pruning Whitleigh
Pruning is a horticultural, arboricultural, and silvicultural practice involving the selective removal of certain parts of a plant, such as branches, buds, or roots. The practice entails the targeted removal of diseased, damaged, dead, non-productive, structurally unsound, or unwanted parts to ensure the long-term health of the said tree, plant, or bush. In other words, pruning is like the equivalent of washing your car every couple of weeks to keep the paint maintained, shiny, and minimizing the risk of damaging your car.
We strongly recommend however contemplating our tree pruning service on a proactive rather than a reactive basis, this ensures growth doesn't get out of hand as well as allows our experienced team to spot any diseases or issues that may be apparent. Here at C & H Tree Surgery in Whitleigh, we can prune any type of tree or hedge using the following techniques: 
Crown Lifting

Crown Reduction

Crown Thinning

Pollarding

Canopy Lifting

Deadwooding
Stump Removal Whitleigh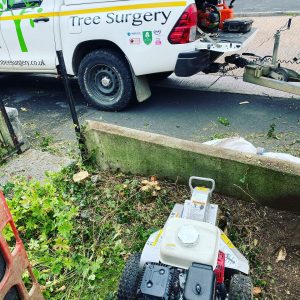 Even once a tree is removed properly, the stump is left behind in the ground and can often look a bit ugly. The way to remove it safely is by getting a professional stump grinding service to do it for you. Thankfully we have you covered in this respect with the latest technology and know-how to get the job done quickly and efficiently. Leaving a stump in the ground can have several negative effects, one being it's a certain trip hazard or potentially sharp lump in the ground that could injure pets, wildlife, or even humans too.
Another effect is that if you are looking to develop a piece of land or change an area of your garden, the stump is often an obstacle that would be better off removed. If you employ our team to do this, we will work within the most convenient times for you and have the stump gone the same day to ensure as little disruption to the neighbors and your schedule as possible. Our hard-working team is fully trained and accredited with all the knowledge in tree stump removal to ensure your tree doesn't become diseased and that no damage is done to the area around it.
Garden Clearances Whitleigh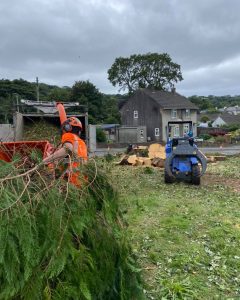 C&H Tree Surgery Whitleigh provides a high-quality garden clearance service adding even more convenience to your agenda. What might seem an initially easy task can often be underestimated once starting with lots of other areas being uncovered along the way that need clearing, sorting, cleaning, changing, mowing, trimming, cutting, and more. This is where our holistic maintenance packages can come in handy because we don't only do the job, we also dispose of all the rubbish in an eco-friendly manner too.
We provide fully comprehensive garden clearance and service so your garden can once again be a space for you to relax and enjoy. We want to work with you to find out exactly what you'd like out of your garden spaces to then formulate a valuable package to suit your needs.
Contact Us Today
You can contact C&H Tree Surgery – the best tree surgeon in Whitleigh –  in several ways to get in touch with us. You can phone us on 01752 881036, email us by filling out the contact form on our website where someone will get back to you as soon as possible to deal with your inquiry. If you'd like further information on our company please feel free to check out our social media channels or reviews on TrustPilot where you'll find plenty of them! We've got a fabulous reputation in the area of Whitleigh – something we're extremely proud of.
We Offer a Variety of Tree Surgery Services
We work on a broad variety of species of trees broad leaf or conifer, even your garden shrubs, ornamental or fruit trees.
Please check out our Instagram at the bottom for our latest projects completed.
Want to keep warm in the winter, why not ask us about our seasoned barn dried logs.
From stump grinding and removal to barn dried logs and decking

"
"Great job on my tree's gentlemen.
Best they have looked.
I would definitely recommend you to family and friends.
10/10!"

"
Absolute legends, Chris and his team dropped everything to help out in removing some seriously large stumps, would highly recommend great guys and very helpful

"
"
Absolutely fantastic service from this team. They undertook a huge job on a very busy estate for me. Professional, clean & tidy, friendly and polite chaps. The only tree surgeons I would use in the south west! Thanks so much!!

"
Start You Project
If you have any questions, would like some advice before starting work or are ready to get your project started today, please fill out the contact form, or call Chris.
6 Orchard Rd, Brixton, Plymouth PL8 2FE