Here at C & H Tree Surgery, we offer high-quality installations for fencing in Plymouth. If your fence is old, rotten, or damaged we can replace it for you.  We can custom-build your new fence to your requirements, using your preferred materials to ensure it fits well within its surroundings.  Our extensive knowledge in fence building means that we not only build fences that last but we can advise you of the best fences to suit the look and feel of your garden.  If you need a fence built call us today on  01752 881036 or email so we can give you a professional and cost-effective FREE quote.
We fit all types of new fencing in Plymouth and will prepare the area for you so that the installation goes smoothly and you end up with a great-looking fence.  Here are some of the typical types of fences we may use. 
Traditional Fencing Plymouth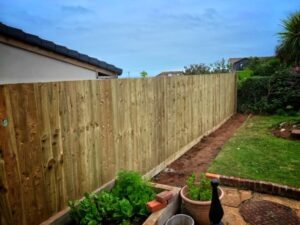 Traditional lap panels are the perfect way to frame your garden in a traditional and timeless way. Traditional lap panels are the most commonly installed fencing in Plymouth and are commonly seen across the country.  Whether you need to simply replace existing fence panels that have become obsolete or you're looking for additional panels to increase privacy, CH Tree Tree Surgery is here to help.  Lap panels are the most cost-effective when it comes to ensuring privacy in your garden.
Close Board Fencing Plymouth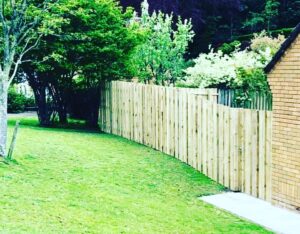 If you're looking for stylish fencing in Plymouth or the surrounding areas, we highly recommend close-board fencing.  This type of fencing is ideal for both commercial and residential customers with a number of variations available to suit your specific requirements.  Customers are able to choose from the wood of concrete gravel boards and posts, depending on your need for lower maintenance and aesthetics.  Close board fencing panels are typically built to around six feet and after fantastic privacy.
Hit & Miss Fencing Plymouth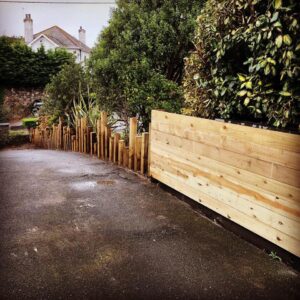 This style of fencing that we provide is the ideal option for customers that are looking for screening in some situations but also require minimal visibility from certain angles.  Hit and Miss fencing is best described as a compromise between close board fencing and palisade fencing and is very appealing on the eye.  These fencing panels are also beneficial and commonly installed within areas that are prone to high wind as they are highly durable and weather resistant.
Picket Fencing Plymouth
Another aesthetically pleasing and popular style of fencing that we supply and install at C&H Tree Surgery.  Picket fencing is very attractive and available in a wide range of heights to suit your preferences.  Commonly used to protect children's play areas and larger domestic gardens, they provide security without compromising the design of your exterior property.  Picket fencing installations are also known to add marketability to homes and attract potential buyers.
Why Fencing From C & H Tree Surgery?
If you're looking for high-quality fencing in Plymouth or the surrounding areas, look no further than C & H Tree Surgery.  We have undertaken hundreds of successful fencing installations and replacements over the years throughout Plymouth, Devon, and Cornwall with a 100% customer satisfaction rate.  Our team always ensures that not only is our work of the highest quality but so is the care taken around your property.  Benefits of installing brand new fencing at your commercial or domestic property include;-
•  Improves Privacy.
•  Creates Deterrent.
•  Increases Security.
•  Establishing Boundaries.
•  Increases Property Value.

Contact C & H Tree Surgery
Looking for brand new fencing installations, we would love to hear from you.  There are many more types available and what we fit is up to you, we will however be happy to provide guidance and advice for your custom-built fence.  We can even build you a custom gate to fit your garden.  Get in touch with us today by calling us directly on 01752 881036.  Alternatively, if you prefer to email, use our simple online contact form and we'll get back to you as soon as possible.  C&H Tree Surgery is Trading Standards Approved.
Start You Project
If you have any questions, would like some advice before starting work or are ready to get your project started today, please fill out the contact form, or call Chris.
6 Orchard Rd, Brixton, Plymouth PL8 2FE