Get in touch with
C & H Tree Surgery
today for stump grinding in Plymouth. Old tree stumps can be a real pain, especially if they are ill-placed or in the way and that's why our exceptional and fully qualified team
can undertake stump removal operations of stumps of all sizes and in most places. We have the equipment to remove small to medium stumps by complete removal or if preferred we can use a specialty stump grinder to remove stumps.
For less problematic stumps we have been known to turn our hand to something more creative, creating lovely stump seating and tables.
Call us today directly on 01752 881036 or use or use our contact form to request your FREE quote.
It's important to invest in Stump Grinding in Plymouth as stumps that are left in the ground at your property can become very unsightly and create a negative first impression to visitors or clients. A decaying stump isn't pretty and can have an impact on your overall property value.
Other reasons why stump grinding is essential include;-
• Reduces risk of injury.
• Environmentally Friendly.
• Makes better use of space.
• Makes it easier to mow the lawn.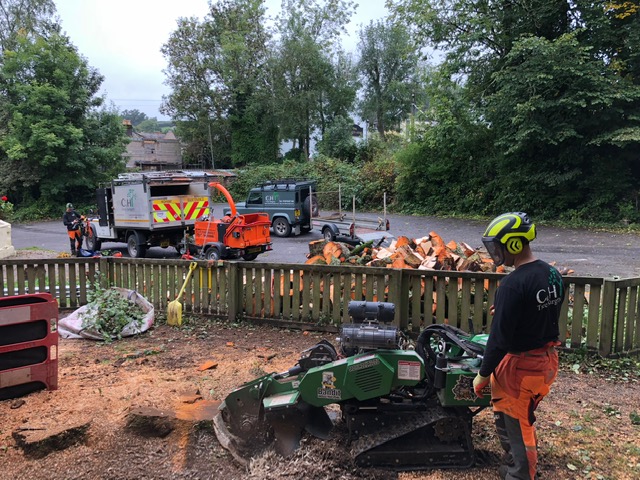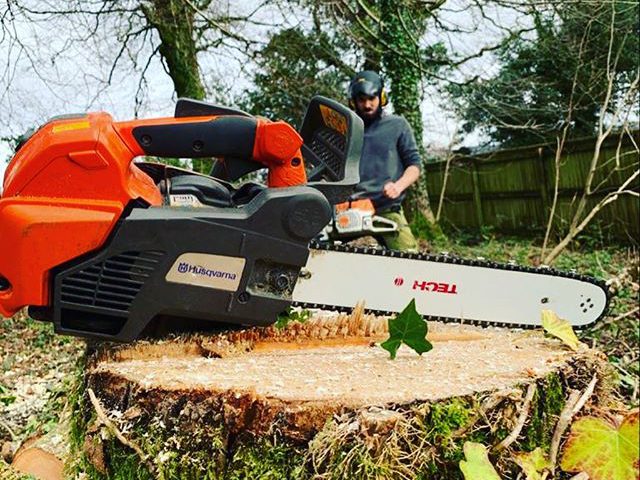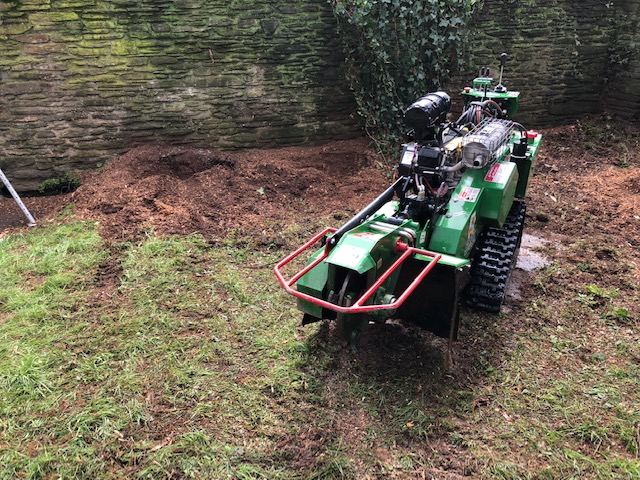 Stump Grinding / Stump Removal
Stump grinding and stump removal. Choosing the best method to eradicate your stump mostly depends on the future plans you have for your landscape. Stump grinding is much less intensive and here, our arborists will use our machinery to completely shreds the stump into small woodchips. Our arborists will discuss stump grinding and removal with all customers before making a decision on the best method and approach. Whatever you choose, you'll be glad to know that your stump will be removed once and for all.
How Does Stump Grinding Work?
Using industry-leading and exemplary stump grinding equipment, our fully qualified experts will use the stump grinder to remove the stump that has been left remaining. Thanks to the powerful, rotating blade that rips into the wood as it turns, stump grinding is proven to be a highly effective way of removing the stump. The blades' teeth will then cut the wood into small pieces before taking the stump down to well below ground level.
Why Choose C & H Tree Surgery?
C & H Tree Surgery have years of experience carrying out all aspect of tree surgery including stump grinding in Plymouth and the surrounding areas. We do everything professionally and efficiently to ensure 100% customer satisfaction. We have previously completed hundreds of successful stump grinding projects and we regularly recommend them to family and friends thanks to our great work!
Contact C & H Tree Surgery
If you're looking for local and reliable tree surgeons to perform stump grinding in Plymouth or the surrounding areas today, get in touch with us today at 01752 881036. Alternatively, use the contact form below and we'll get back to you as soon as possible. C & H Tree Surgery has fully approved ARB contractors, is CHAS accredited, and is rated within the top three tree surgeons in Plymouth.
Why should I consider stump grinding?
There are many reasons why stump grinding will be beneficial for you and your property. There is nothing more annoying than seeing that annoying stump left over after having your tree removed. Especially if you have children or pets, tree stumps can increase the risk of injury, and accidents, and also restrict space. When you choose C&H Tree Surgery, we will remove all potential risks by eradicating your tree stump for good.
Will the stump be eradicated for good?
Yes, of course. We use the very latest state-of-the-art stump grinding machinery to permanently remove your stump(s) so that they don't grow back. This means that it will take just one single visit to eradicate your stump for good without question.
Will stump grinding damage my lawn?
If you choose a professional and accredited stump grinding tea, just like ours at C&H Tree Surgery, stump grinding should not damage your lawn or landscaping area. Our stump grinding machinery is proven to help protect softer areas from being torn up.
Is stump grinding messy and noisy?
Yes. It's no secret that stump grinding is both messy and noisy. This is the exact reason that we highly recommend you choose a professional to get the job done as DIY stump grinding machinery can be ever louder. Our professionals wear all the necessary protective equipment to safeguard themselves from the noise. In regards to the mess though, we will clean up all mess made and ensure that your garden/landscaping area is left is great condition.
Can I remove a stump myself?
We strongly advise against this. Although it is possible, without access to professional equipment, it's likely that you'll eventually end up calling us anyway. We have been doing this for decades and follow a proven step-by-step process to achieve the very best results for permanent eradication.
Paul Richards
Excellent results from C&H tee Surgery. We highly recommend them for their professionalism and the fantastic service we received.
Steve Booker
Chris and his team came today to fell one tree and grind 4 stumps. Very impressed with their workmanship and I would highly recommend them to anyone. Chris made sure the area was left tidy after he finished.
Tim P
C&H provided a first-class professional service. Removed 1 tree complete, ground out 7 small stumps and 1 very large Beech tree stump. Difficult access for them but all were completed on time and very effectively. I have no hesitation in recommending them and have passed on their details to colleagues.
Kerry Fritzsche
If you need any job done in this field, I wouldn't look any further than these guys. Need a selection of trees removed including 2 large Oak and they couldn't have made it look easier. The quote was the best we had, they arrived as promised and nothing was too much trouble. Really friendly and professional service, faultless!
Jane - Plympton
Great service, quick professional, and friendly guys.
Geoff Gore
Would highly recommend using c&h tree Surgery,very professional approach and reliable and Chris is a very nice bloke, who works hard very fair pricing
Start You Project
If you have any questions, would like some advice before starting work or are ready to get your project started today, please fill out the contact form, or call Chris.
6 Orchard Rd, Brixton, Plymouth PL8 2FE