If you're looking for safe and efficient tree removal in Plymouth or the surrounding areas, look no further than C & H Tree Surgery. Our expert and experienced team are able to remove all types of trees from commercial and domestic premises. Tree removal is a very necessary part of arboriculture and is essential when trees are hazardous to the public or other nearby trees and wildlife. The process is challenging and potentially dangerous, therefore should only be performed by specialist tree surgeons that have the relevant equipment. Whether you require one or multiple trees removing, we are the local team you can rely on. Get in touch with us today by calling us directly on 01752 881036 to request your FREE quotation.
C & H Tree Surgery follow a professional process to ensure trees are removed safely and efficiently. After clearing the area and examining the tree, we will then begin to start the undercut before proceeding to the backcut. Once the tree is removed, we will dispose of all waste material is an environmentally friendly way. We will cut remove the branches to make much easier for us to dispose of and cut the log into multiple pieces. C & H Tree Surgery have the industry-leading equipment readily available to do a professional job and remove your tree on a same-day service.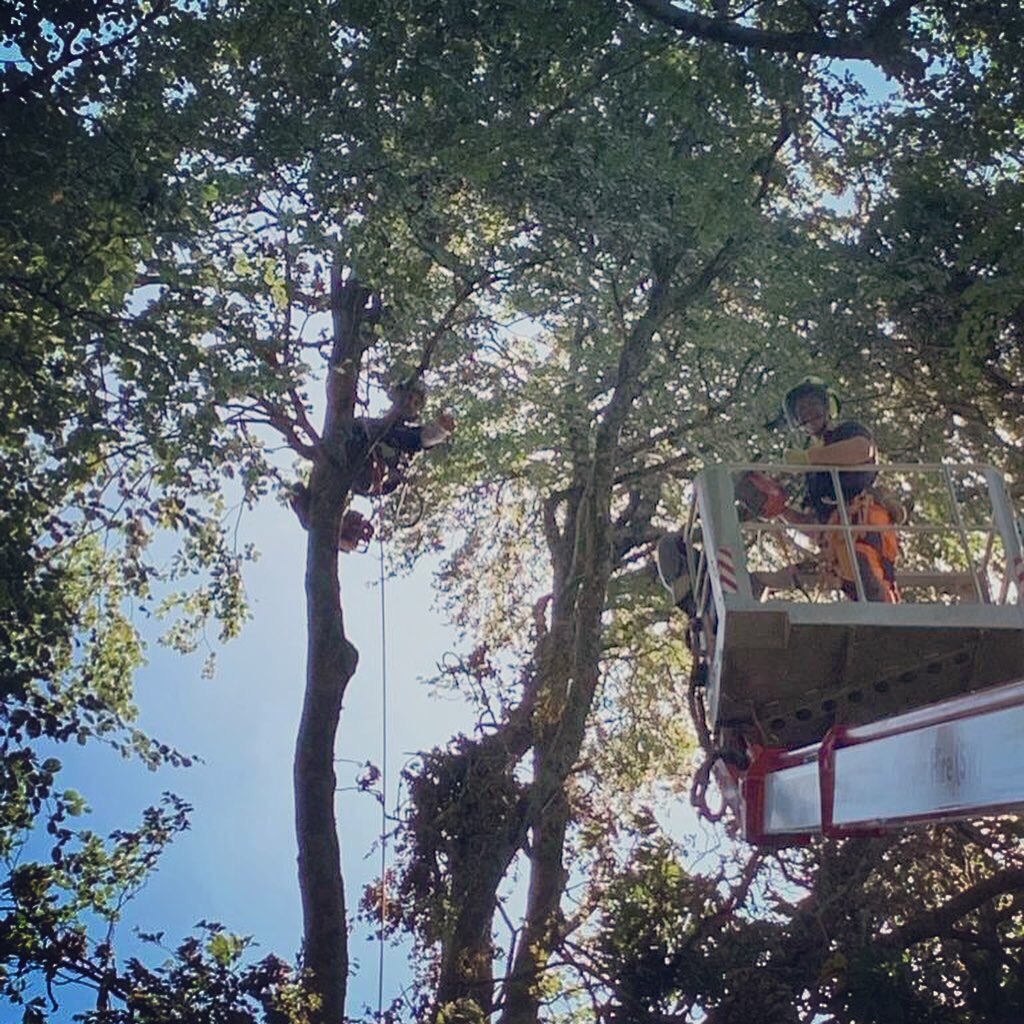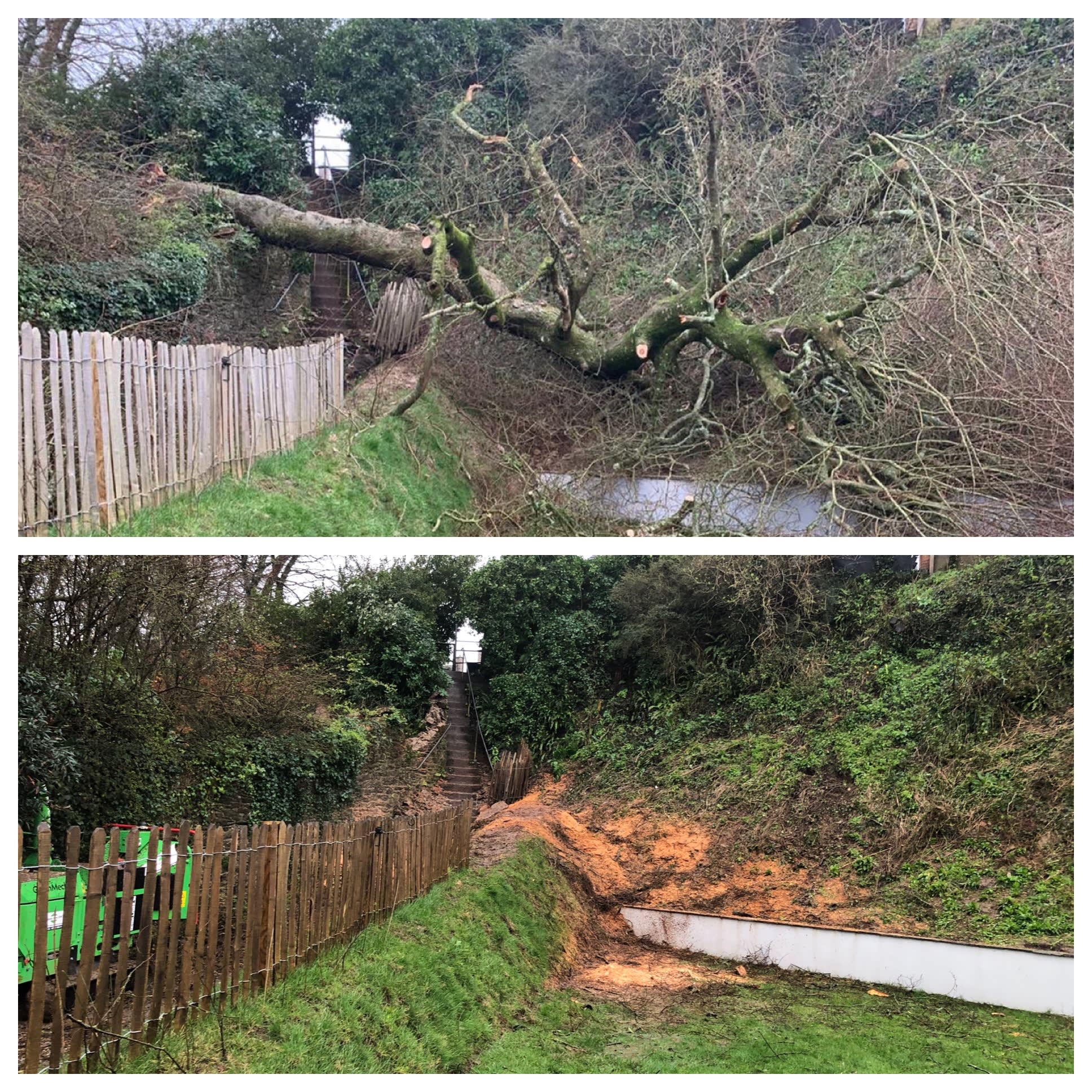 Benefits Of Tree Removal
Where it's possible to do so, we will always do our best to preserve trees and keep them healthy and thriving. However, in some circumstances, it is much more beneficial to remove the trees permanently. Dying trees and lifeless branches can threaten roofs, cars and the general public leaving you liable. This threat can be removed by eradicating the tree. Moreover, tree removal can help to increase your curb appeal.
If you have a tree that is blocking sunlight and overgrowing, removal may be the best option. Moreover, you will be working to keep your landscape clean and eliminating all safety concerns.
Is Removal Always Necessary?
Not always. Our experienced tree surgeons at C & H Tree Surgery will first look to offer tree pruning services to preserve the health and aesthetics of your tree or trees. If there are ways that we can save your trees for the good of the environment and your surroundings, we will do so. However, there are cases where removal is definitely necessary. If there is evidence of infection and root defects, tree removal may be the best solution. Further reasons where tree removal is paramount include;-
• Dead Trees.
• Damaged Trees
• Enroaching Trees.
• Annoying Trees
• And More!
Why Choose C & H Tree Surgery?
If you're looking for tree removal in Plymouth, look no further than C & H Tree Surgery. We have years of experience in the industry and continue to offer an unrivaled service. As a family-run business, we are passionate about delivering high-quality tree surgery and customer service. We have successfully completed hundreds of tree removals for commercial and domestic customers. We are quality-minded, reasonably priced, and professionally staffed covering Plymouth and throughout.
Contact C & H Tree Surgery
If you're looking for local and reliable tree removal to perform stump grinding in Plymouth or the surrounding areas today, get in touch with us today on 01752 881036. Alternatively, use the contact form below and we'll get back to you as soon as we can. C & H Tree Surgery has fully approved ARB contractors, CHAS accredited, and are rated within the top three tree surgeons in Plymouth.
Kara Renshaw
Had a very large Cherry tree bordering with a neighbour that needed chopping back. Brilliant service! Excellent price. The lads couldn't do more and were courteous and professional at all times. They clearly love what they do and care about customer satisfaction. Excellent job well done! Highly recommended
John Swaffield
Excellent jobs cutting back a large oak tree that was blocking the sun in our garden.
Also cut down conifer trees running along the side of our garden and replaced with great looking wooden fence.
Matthew Randle
A very professional service. Chris provided a very reasonable quote and the staff were very helpful and polite and completed an excellent job. We would certainly use again and highly recommend.
Kerry Fritzsche
If you need any job done in this field, i wouldn't look any further than these guys. Need a selection of trees removing including 2 large Oak and they couldn't have made it look easier. The quote was the best we had, they arrived as promised and nothing was too much trouble. Really friendly and professional service, faultless!
Jane - Plympton
Great service, quick professional and friendly guys.
Simon Jones
Chris came round today to sort out our jungle and he has done an amazing job. Truly outstanding and i would highly recommend him.
Start You Project
If you have any questions, would like some advice before starting work or are ready to get your project started today, please fill out the contact form, or call Chris.
6 Orchard Rd, Brixton, Plymouth PL8 2FE