Frequently Asked Questions
what if the weather is wet?
We'll still come for your scheduled visit and carry out the tasks which are possible. We use mowers which are designed to cut in all but the wettest conditions, we will make an assessment on the day for all tree surgery work to ensure it is safe.
what about the winter?
Some tree surgery work is seasonal and in the best interest of the tree we will advise you on how and when to undertake certain types of work. This does not include emergency work that has to be undertaken no matter the weather / season.
what if i want to cancel?
If you have booked in work to be done and need to cancel, please ensure you let us know as soon as possible so we can book other work in.
Do you do emergency tree work?
Yes. We are on call 24hrs a day to undertake any emergency tree work.
Do you work to a british standard?
Yes. All our work is carried out to BS3998.
What do you do as tree surgeons?
As expert and reliable tree surgeons in Plymouth and the surrounding areas, we are passionate about delivering a full range of tree surgery services. Whether you require tree removal, stump grinding, tree felling, tree pruning or tree planting, there is no job too small or large for our team to handle. All work carried out by our tree surgeons is work of the highest quality. C&H Tree Surgery are able to work with both domestic and commercial clients on all type of tree work.
Do you provide FREE quotations?
Yes, of course we do. You will be pleased to know that C&H Tree Surgery provide FREE no-obligation quotations to both domestic and commercial type clients that need help with tree surgery services. Every job we undertake is unique and different from the previous. Before we provide a FREE no-obligation quotation, we will first make sure that we have a full overview on the task at hand and what it will entail. Therefore, we can provide a competetively priced quotation that makes sense to you.
Are your staff qualified and experienced?
Yes. We pride ourselves on offering a high-quality of service which is backed up by our qualifications and accreditations. As a tree surgery company with years of experience behind us, it should come as no surprise that we are accredited to the expected standards. C&H Tree Surgery are City & Guilds and Level 3 Qualified. Moreover, we are also an ARB approved contractor. All tree surgeons that work for us are handpicked in the local area.
Why choose C&H Tree Surgery?
C&H Tree Surgery have recently been voted within the top three best rated tree surgeons in Plymouth. And this is for a second year running! We are really proud to have achieved this and it reflects the high level of service that we provide to all our customers within the area. Since establishing, we have put 5-star reviews and positive customer feedback above everything else. As a result, we have now collected well over thirty 5-star reviews.
Will I have to be home?
No, not at all. It comes down to personal preference. If you would rather be home when we undertake our work, that is absolutely fine. However, if you are out at work or have other plans, as long as we have direct access to your trees and specific area we are working, there is no obligation for you to be home for us to do the work. If you have any queries or questions about this, please don't hesitate to get in touch.
How much will it cost to cut down my tree?
Tree removal and tree cutting is a dangerous procedure that should only be undertaken by accredited professionals just like C&H Tree Surgery. That being said, we completely understand that you'll want to gain a rough estimate on the price that it costs to remove a tree by a team such as ourselves. Unfortunately, it's difficult to give a base price as every job is different. It all depends on the locations, size of tree, and difficulty of the job. However, we can give you a price if you want to send us some images over via our contact form or WhatsApp.
What commercial services do you offer?
As well as working with domestic customers, we are also able to work with commercial customers as well. Our main commercial services include commercial tree removal, grounds maintenance, fencing installations, site clearances, and woodland management. The types of businesses we work with and offer these services to include schools, hospitals, office blocks, and many more.
Do you offer any other none-related tree surgery services?
The bulk of our work is handling tree surgery enquiries from commercial and domestic clients. However, we do also offer some non-related tree surgery services such as fencing. Fencing options that customers can choose from include close board fencing, hit & miss fencing, and picket fencing. C&H Tree Surgery are able to professionally installed fencing to a high standard.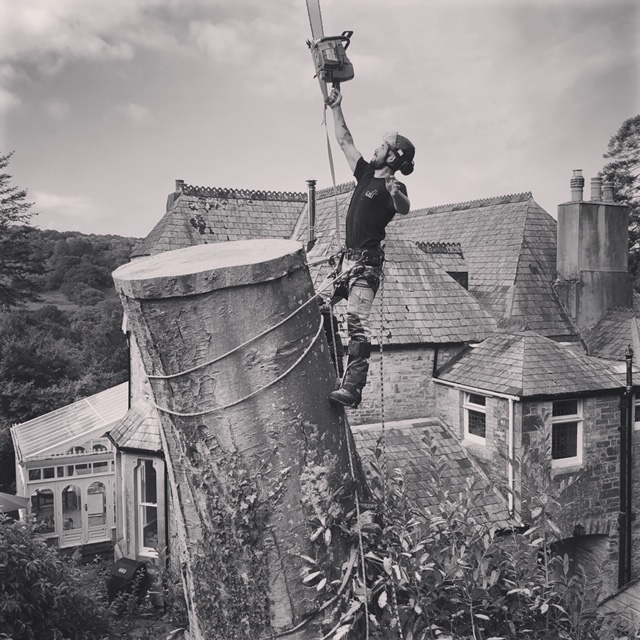 Start You Project
If you have any questions, would like some advice before starting work or are ready to get your project started today, please fill out the contact form, or call Chris.
6 Orchard Rd, Brixton, Plymouth PL8 2FE