If you're looking for high-quality fencing in Plympton, look no further than C & H Tree Surgery. Whether you're looking for a direct replacement or something completely different, we are confident that we have the fencing solutions that you require. Our outstanding team of fencing installers are able to build and install fences that last, increase privacy and also better the curb appeal of your property. C & H Tree Surgery are able to install both commercial and domestic fencing in Plympton for a range of customers. For more information or to receive your FREE no-obligation quotation, call us today on 01752 881036
Over the years, we have performed hundreds of different fencing installations for the local people of Plympton with 100% customer satisfaction to this date. Below are just a few of the most popular and requested types of fencing we install;-
Traditional Fencing Plympton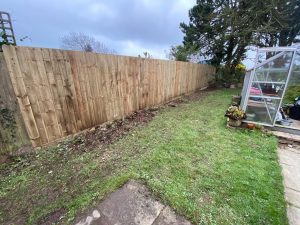 Traditional fencing is commonly chose over panel for fencing due to the reason that it is much easier to install on slopes as it can run with the hill. Traditional fencing is highly cost effective and is reputable for increasing overall security and privacy. The length of the fence that you require are also highly flexible and can be made-to-measure by our expert team. Lap panels are the most cost-effective when it comes to ensuring privacy in your garden.
Close Board Fencing Plympton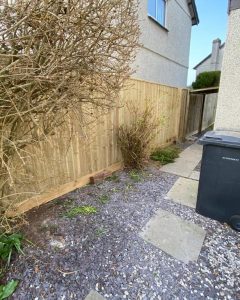 Many customers that request from fencing from C & H Tree Surgery are looking for options that are stylish and help to increase curb appeal, whilst also making sure privacy and security of the property isn't compromised. In this case, close board fencing is highly recommended. There are so many choices to choose from with close board panels including the choice of concrete gravel boards and posts, depending on your requirements and preferences. Moreover, close board fencing panel is also one of the most accessible forms of fencing and can be erected by competent DIYers. However, we recommend using our professional installers of course to ensure a quality job.
Hit & Miss Fencing Plympton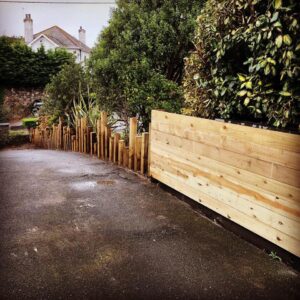 For homeowners or property owners that are looking for screening – yet minimal visibility from certain angles – we recommend Hit And Miss Fencing. Sawn or planed materials are available with this style of fencing a gaps can be varied according to customer taste and unique preferences. From start to finish, we allow you to design your very own hit and miss fencing panels so that you are 100% satisfied with the end result and installation.
Picket Fencing Plympton
Picket fencing is commonly found at race courses but have you ever thought about how this type of fencing may look for your property on a smaller scale? Picket fencing is made with quality materials to last and adds huge marketability to your home as the retro look is always in fashion! If you're looking to increase curb appeal and the appearance of your property from the outset, picket fences are always a winner. And as always, this type of fencing will add an extra layer of privacy and security.
Why Fencing From C & H Tree Surgery?
Looking for a reputable and well-known fencing company in Plympton? If so, look no further than C & H Tree Surgery. We are quality minded, reasonably priced and professionally staffed. We cover Plympton, the surrounding areas with Plymouth and also further afield in regions such as Devon and Cornwall. Our staff take great pride in helping customers and providing excellent fencing installation.
Benefits of installing brand new fencing at your commercial or domestic property include;-
•  Improves Privacy.
•  Creates Deterrent.
•  Increases Security.
•  Establishing Boundaries.
•  Increases Property Value.

Contact C & H Tree Surgery
Here at C & H Tree Surgery, we are proud to be the number one fencing company in Plymouth that offer a wide variety of different types of fencing installations. Get in touch with our team today by calling us directly on 01752 881036 or by using our online contact form.
Start You Project
If you have any questions, would like some advice before starting work or are ready to get your project started today, please fill out the contact form, or call Chris.
6 Orchard Rd, Brixton, Plymouth PL8 2FE