If you are looking for high-quality fencing in Tavistock, C & H Tree Surgery offers a wide range of fencing solutions for both domestic and commercial premises. Our design and installation service completed by our skilled experienced team means you will be left with a fence that lasts, increases privacy, creates a sturdy barrier, and increases the curb appeal of your property. 
We offer a free no-obligation quote for any proposed work along and will be able to recommend materials, styles, and dimensions to best suit your requirements. For more information, get in touch using the contact form or call us directly today on 01752 881036 where our team will be happy to advise.
Our reviews speak for themselves in terms of the service and quality of the product we offer in Tavistock. Below are some of our more popular requests for different types of fencing we can install:
Traditional Fencing Tavistock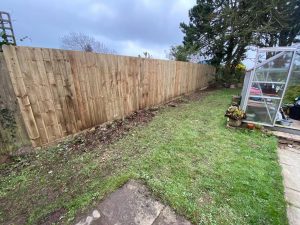 Traditional fencing is a common type of fencing to install on slopes as it can run in line with the gradient of the hill. Traditional fencing is known for its longevity and security and can be produced bespoke completely to your needs. Lap panels can also be installed to ensure you have the ultimate privacy for your garden area.
Close Board Fencing Tavistock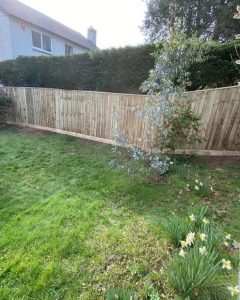 Choosing a new fence is often not just about increasing the security of your premises but also to increase the aesthetics of your house. Close board fencing is an option we highly recommend to increase the curb appeal of your premises.
With many material options to choose from such as concrete gravel boards and posts, we will have an option for you that will look smart yet serve its purpose. Close board fencing can be made accessible at any point so is ideal for those looking to add a gate to the fence.  
Hit & Miss Fencing Tavistock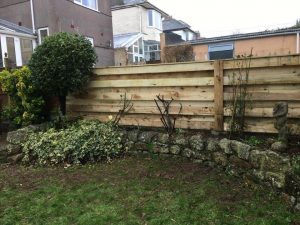 Hit and miss fencing allows for a customizable amount of privacy as the gaps in the fencing can be made bespoke. There is even the option to have different panels have different amounts of gaps to allow you to change people's view obstruction at different points on the premises.
Picket Fencing Tavistock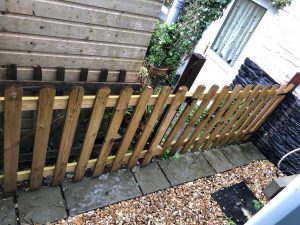 Picket fences provide a subtle barrier and can instantly make an area look tidier and more orderly. If you're looking for instant curb appeal, picket fences will be the option for you. Providing a retro look, they can be made bespoke to your requirements and often look great painted. As with all our fencing, it creates an additional layer of security to give you peace of mind regarding the security of your property.
Why Fencing From C & H Tree Surgery?
Fencing from C & H Tree Surgery is supplied with quality in mind, this paired with our superior installation skills will leave you with a high quality fence that will stand the test of time. 
We cover Tavistock, the surrounding areas with Plymouth, and also further afield in regions such as Devon and Cornwall. We take pride in providing high-quality fences to our customers, who often come back to access the same or another one of our services. 
Some benefits of installing brand new fencing at your commercial or domestic property can include: 
•  Improves Privacy.
•  Creates Deterrent.
•  Increases Security.
•  Establishing Boundaries.
•  Increases Property Value.
Contact C & H Tree Surgery
C & H Tree Surgery are your local, reliable, high quality yet reasonably priced fence installer in Tavistock. We are rated number one in Plymouth, to experience our service for yourself, Get in touch with our team today by calling us directly on 01752 881036 or by using our online contact form.
Start You Project
If you have any questions, would like some advice before starting work or are ready to get your project started today, please fill out the contact form, or call Chris.
6 Orchard Rd, Brixton, Plymouth PL8 2FE