Tractor & Mini Loader Hire Plymouth
Looking for tractor or mini loader hire in Plymouth? Look no further than C&H Tree Surgery. Mini loader hire is available for short to medium-term hire which can assist with a number of construction or landscaping projects. However, we only provide operated hire where one of our highly-experienced operatives will operate either machine for you.
When it comes to the options with our tractor and mini loader hire, there are two main options for you to select from. Machine 1 is the Tractor (Kubota 110GX) which is a suitable hire option if you're looking for small-size tractor to efficiently move and transport loads and materials from one destination to another. Further uses may include; removing landscaping, digging up driveways, and hauling objectives.
The second option we have available is the Mini Loader (Multione 5.2). This machine is suitable for the transportation of soil, rocks, and other solid materials in narrow or tightly restricted areas where a full-sized loader would be impractical. They are particularly useful on small construction projects that require maneuverability and precision.
Get in touch with us today by calling us directly at 01752 881036 or use our online contact form to request your FREE quotation.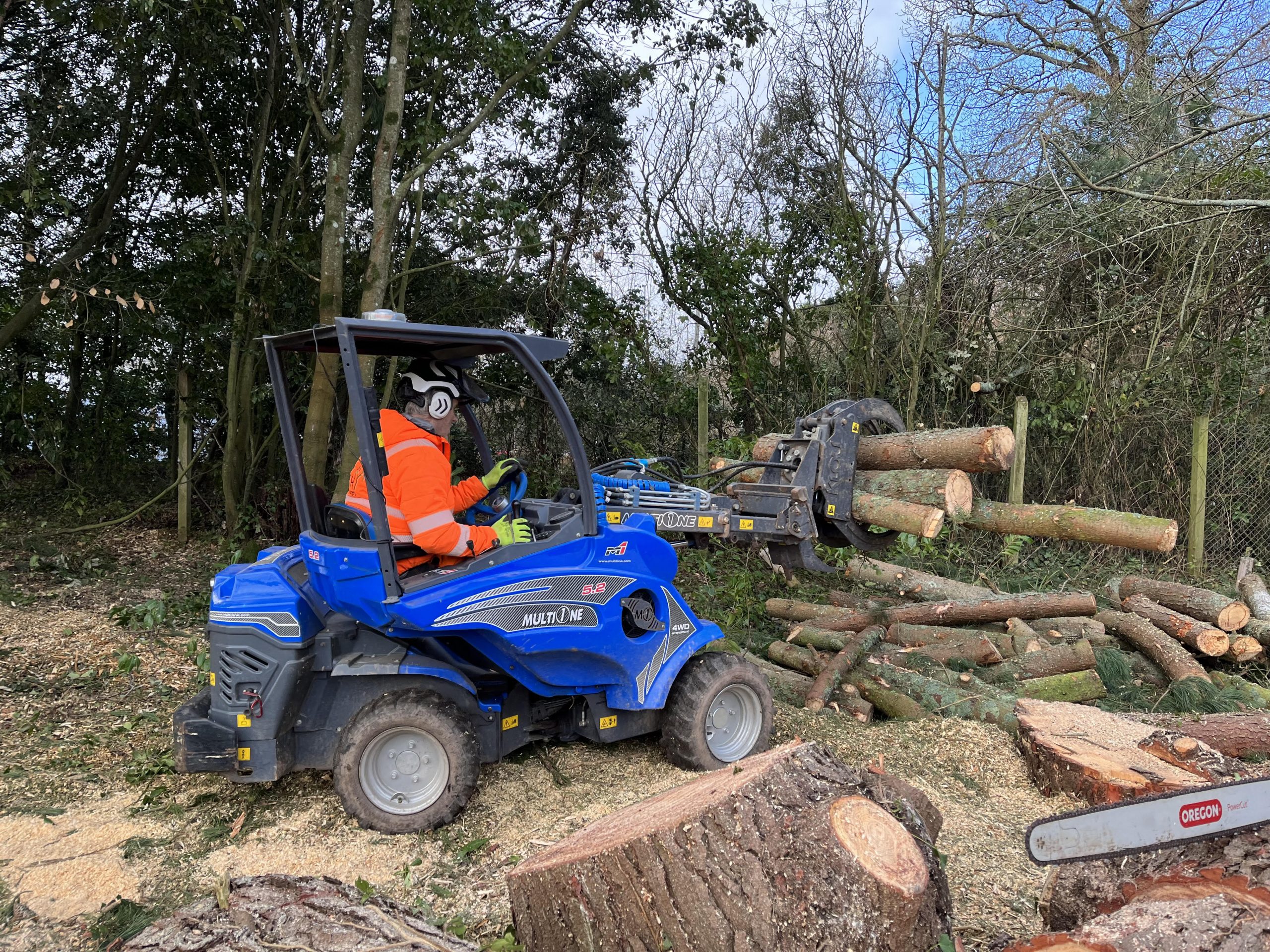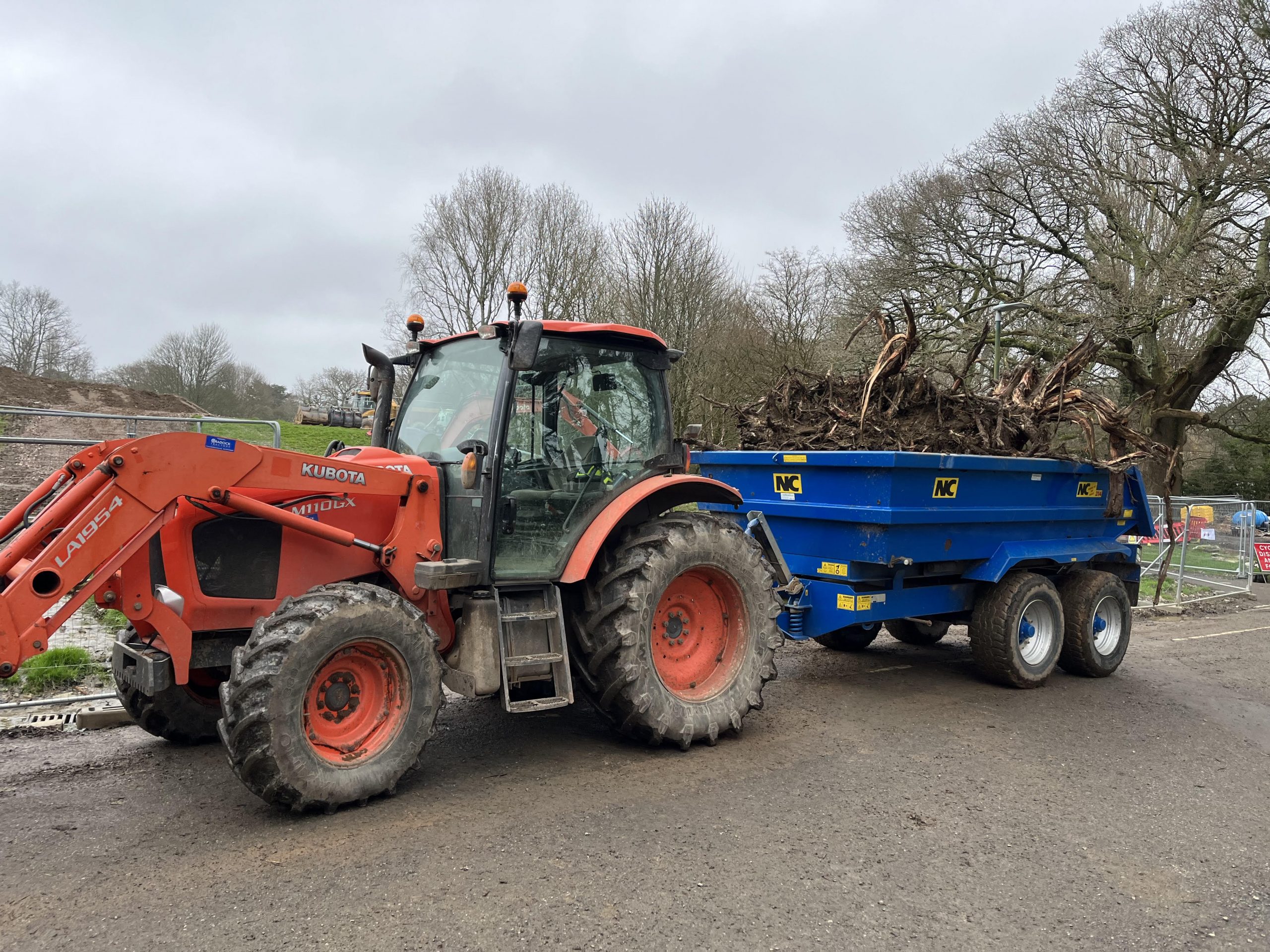 Tractor & Mini Loader Hire Plymouth
When it comes to tractor and mini loader hire in Plymouth, we have two main options for you to select from. Check out our main two options below with main features and specifications listed. If you need any further information, please don't hesitate to call us right away.
Machine 1 – Tractor

(Kubota 110GX)
Hedge Trimmer

5.5 metres

Dump Trailer
Timber Trailer
Loader Forks/Buckets

 1.5t
Machine 2 –  Mini Loader (Multione 5.2)
Tipping load
1020kgs
Power
25hp
Speed
14 km/h
Flow Rate
341/m & 501/m
Lift height
2.75m
Pushing Force
900kgf
Weight
1020kgs
Max Lift
890kgs
Contact C & H Tree Surgery
If you're looking for tractor or mini loader hire in Plymouth, look no further than C&H Tree Surgery. Contacting C&H Tree Surgery for your FREE, no-obligation quotation is a simple process. You can reach out to our friendly and professional team by calling us at 01752 881036. Alternatively, if you prefer to  email, you can use our online contact form, and we will respond to your inquiry promptly.
Kara Renshaw
Had a very large Cherry tree bordering with a neighbour that needed chopping back. Brilliant service! Excellent price. The lads couldn't do more and were courteous and professional at all times. They clearly love what they do and care about customer satisfaction. Excellent job well done! Highly recommended
John Swaffield
Excellent jobs cutting back a large oak tree that was blocking the sun in our garden.
Also cut down conifer trees running along the side of our garden and replaced with great looking wooden fence.
Matthew Randle
A very professional service. Chris provided a very reasonable quote and the staff were very helpful and polite and completed an excellent job. We would certainly use again and highly recommend.
Kerry Fritzsche
If you need any job done in this field, i wouldn't look any further than these guys. Need a selection of trees removing including 2 large Oak and they couldn't have made it look easier. The quote was the best we had, they arrived as promised and nothing was too much trouble. Really friendly and professional service, faultless!
Jane - Plympton
Great service, quick professional and friendly guys.
Simon Jones
Chris came round today to sort out our jungle and he has done an amazing job. Truly outstanding and i would highly recommend him.
Start You Project
If you have any questions, would like some advice before starting work or are ready to get your project started today, please fill out the contact form, or call Chris.
6 Orchard Rd, Brixton, Plymouth PL8 2FE