Tree Surgeon Compton
Welcome to C&H Tree Surgery – your local tree surgeon in Compton. We've been operating in Compton and surrounding areas for years now and have dealt with all sorts of projects, differing in scale and complexity meaning we're pretty well equipped to tackle what's in front of us. Our team has a passion for tree surgery and a heart of gold too so we'll always deliver top-quality service with a smile, what more do you need, right? What's more, is our prices are extremely competitive and we've got a plethora of top reviews to back up what we're saying. 
We have a number of useful services on offer which predominantly relates to tree surgery however we also cover general garden maintenance and waste removal too. 
 – Our teams are fully accredited, qualified and skilled to ensure your project is dealt with to the highest standard possible. And of course, one of our main priorities is health and safety along the way. We hope that with all considered, this will give you peace of mind knowing we're the best contractor available.
Tree Removal Compton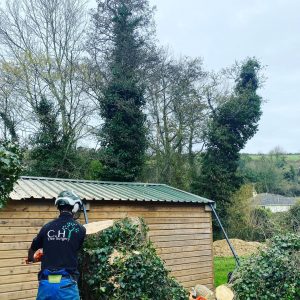 There may be several reasons why tree removal is needed. Firstly a tree could be an obvious obstruction to any building development that is going on or planned, so as a result will need removing. Secondly, a tree may need to be removed due to it being diseased. This can in unfortunate circumstances happen naturally but must therefore be removed to stop the damaging of any other trees around it. Leaving it there would risk infection of lots of trees, which can't be put to chance. Finally, but not limited to, a tree may also need to be removed should it be strategically beneficial. For example, larger trees can sap lots of soil nutrients thus leaving many smaller trees around it susceptible to problems. So, in an attempt to save the majority, the bigger tree may need to go. 
Tree removal can be a difficult and risky process that involves many safety procedures and a carefully drawn up process for delivery. At C&H Tree Surgery we have lots of high-tech equipment and mechanical machinery so it's important to brief you as the customer properly and let you know exactly what we'll be doing. At times, work might be done at night but we always look to cause as little disruption to the neighbourhood area as possible. To minimise the risk to our staff and the general public as much as possible, we follow the latest safety regulations and keep our team educated on regular safety courses.
Tree Pruning Compton
Tree pruning is also something we do as a business to help you keep your trees looking healthy and tip-top in appearance. We advise that you look at pruning your trees on a proactive rather than reactive basis because otherwise, your tree may get a little out of hand. Furthermore, if a tree gets to a point where it is overgrown then it may have given any potential diseases the chance to flourish which could be majorly bad news for the tree and others around it in the long run. 
Here at C&H Tree Surgery in Compton, we can prune any type of tree or hedge using the following techniques: 
Crown Lifting

Crown Reduction

Crown Thinning

Pollarding

Canopy Lifting

Deadwooding
Stump Removal Compton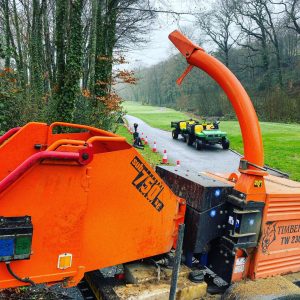 Once the tree itself has been removed, the stump remains in the ground but also needs to be taken out. That's where we come in with our professional tree stump removal services in Compton. Typically, the stump is ground down using specialist equipment then the area is examined to ensure it's fully safe for both humans and wildlife too.
Stumps can actually become a nuisance because of them being a trip hazard and generally aren't the nicest on the eyes in your front or back garden. They could also obstruct a view that is less than ideal. Fear not, however, because here at C&H Tree Surgery – as the best tree surgeon in Compton – we have a solution for you thanks to the wealth of experience we've got in the team.
Garden Clearances Compton
Off the face of it, a garden clearance doesn't sound like much. But, it's one of those jobs that does not appear much until you get stuck into it and then you've opened a whole can of worms that can take hours and often be labour intensive. We provide and have a whole team dedicated to garden clearances so your garden can remain the pride of your home without you lifting a finger. As well as trimming hedges, clearing rubbish and disposing of waste, we can tailor packages suited to your requirements.
With all the technology we use as well as human power available to us, we can have the job done in a quick and efficient manner. In addition to this service alone, you may come to realise that a full gardening and outdoor space tidy up is required monthly to keep your space maintained, which is definitely something we can help with too.
Contact Us Today
Make sure you get in contact with us today here at C&H Tree Surgery Compton. As your reliable tree surgeon in Compton, we will provide a free of charge, no-obligation quote upon your enquiry and get it sent over to you as quickly as possible. We believe in top quality service all the way from enquiry through to completion.
Get in touch today using the contact form on our website, or alternatively, you can call us directly on 01752 881036 where our customer advisors will be happy to help. Furthermore, our reviews from previous customers speak for themselves, the service we offer is second to none and we have no doubt you'll be happy with our tree surgery service in Compton.
We Offer a Variety of Tree Surgery Services
We work on a broad variety of species of trees broad leaf or conifer, even your garden shrubs, ornamental or fruit trees.
Please check out our Instagram at the bottom for our latest projects completed.
Want to keep warm in the winter, why not ask us about our seasoned barn dried logs.
From stump grinding and removal to barn dried logs and decking

"
"Great job on my tree's gentlemen.
Best they have looked.
I would definitely recommend you to family and friends.
10/10!"

"
Absolute legends, Chris and his team dropped everything to help out in removing some seriously large stumps, would highly recommend great guys and very helpful

"
"
Absolutely fantastic service from this team. They undertook a huge job on a very busy estate for me. Professional, clean & tidy, friendly and polite chaps. The only tree surgeons I would use in the south west! Thanks so much!!

"
Start You Project
If you have any questions, would like some advice before starting work or are ready to get your project started today, please fill out the contact form, or call Chris.
6 Orchard Rd, Brixton, Plymouth PL8 2FE