Tree Surgeon Kings Bridge
C & H Tree Surgery are your local and reputable tree surgeon in Kings Bridge and the surrounding areas. We have an extensive range of tree surgery services on offer from stump removal, tree removals, pruning as well as garden clearances.  With over 25 years in the business, it's safe to say we have the know-how and knowledge to complete jobs in a timely manner to a high quality. To find out more information about how we can help, don't hesitate to get in touch with us today.
Tree Removal Kings Bridge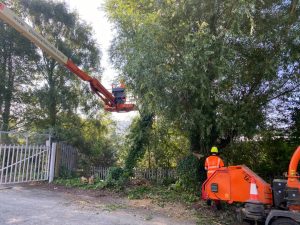 Removing trees requires the utmost safety when operating to ensure all involved including our team, the general public, and are kept safe. Here at C & H Tree Surgery, we have the knowledge and systems in place to make sure all work is carried out with safety in mind and meets all legal requirements. 
Trees are often removed if they obstruct views or block significant amounts of natural light which can be a nuisance especially if the tree is blocking natural light into a garden. Sometimes our pruning services can rectify the problem but occasionally it is preferable to completely remove the tree. Removing trees can also significantly increase the nutrient availability of the soil which is ideal if you are planning to develop the land into gardens with lots of other plants which as a result of the tree being removed, will be able to flourish.
Tree Pruning Kings Bridge
Tree pruning services offered by C & H Tree Surgery in Kings Bridge are tailored to the particular tree and your requirements. There is no one size fits all solution, to ensure we meet your requirements, it's best to fully outline what service you'd like, this can all be discussed with our friendly advisors. Pruning is best accessed on a proactive basis; this makes sure the trees don't get too out of hand and maintains their health and aesthetics. 
Our skilled tree surgeons can complete all work in a timely manner yet to the highest standard. Second to none knowledge and top-spec equipment is a combination that makes C & H Tree Surgery the best in the market. Here at C & H Tree Surgery in Kings Bridge, we can prune any type of tree or hedge using one or a combination of the following techniques:
• Crown Lifting.
• Crown Reduction.
• Crown Thinning.
• Pollarding.
• Canopy Lifting.
• Deadwooding.
Stump Removal Kings Bridge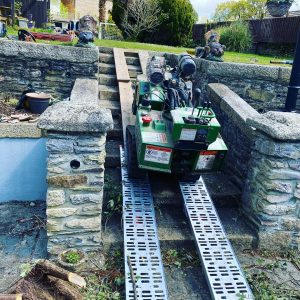 If a stump isn't removed, it can be a slip or trip hazard, that's why we aim to remove the stump the same day as the tree removal. Our specialist knowledge and equipment mean we are capable of fully removing the stump to ensure no further growth occurs. In some of our previous work, some of our customers have requested garden furniture or sculptures to be carved from the remaining stump. We are able to do this on request, get in touch with us today to discuss what you'd like us to do in regards to stump removal.
Garden Clearances Kings Bridge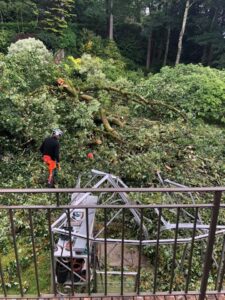 C & H Tree Surgery offers a fast and comprehensive garden clearance service. We are able to remove any typical garden waste such as grass, branches, or gravel in a timely manner, all waste is disposed of through the correct channels and recycled where possible. Our knowledgeable team can advise how to further develop your outside space whether that be building decking, raised flower beds, or planting fruit trees.
Contact Us Today
If you would like to find out any information about the services we offer at C & H Tree Surgery in Kings Bridge, get in touch with with the leading tree surgeon in Kings Bridge today on 01752 881036 or use the contact form where our friendly customer advisors will respond in a timely manner. We are on hand for advice on what service will best suit your requirements, we will also provide free no-obligation work for any proposed work.
We Offer a Variety of Tree Surgery Services
We work on a broad variety of species of trees broad leaf or conifer, even your garden shrubs, ornamental or fruit trees.
Please check out our Instagram at the bottom for our latest projects completed.
Want to keep warm in the winter, why not ask us about our seasoned barn dried logs.
From stump grinding and removal to barn dried logs and decking

"
"Great job on my tree's gentlemen.
Best they have looked.
I would definitely recommend you to family and friends.
10/10!"

"
Absolute legends, Chris and his team dropped everything to help out in removing some seriously large stumps, would highly recommend great guys and very helpful

"
"
Absolutely fantastic service from this team. They undertook a huge job on a very busy estate for me. Professional, clean & tidy, friendly and polite chaps. The only tree surgeons I would use in the south west! Thanks so much!!

"
Start You Project
If you have any questions, would like some advice before starting work or are ready to get your project started today, please fill out the contact form, or call Chris.
6 Orchard Rd, Brixton, Plymouth PL8 2FE