Tree Surgeon Newton Ferrers
C & H Tree Surgery are your well-established tree surgeon in Newton Ferrers that have been providing domestic and commercial tree surgery for many years. We pride ourselves on providing high-quality and reliable service in Newton Ferrers. All aspects of tree surgery and ground management are covered including tree surgery, garden clearance, and maintenance as well as assessing any diseases in the trees.
We offer a free no-obligation quote for any work you would like to enquire about. We will also be able to estimate how long a project will take so you can plan accordingly. We aim to cause minimal disruption and get the job completed as quickly as possible without compromising on safety. 
Tree Removal Newton Ferrers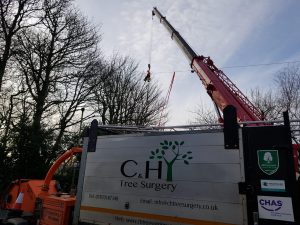 Trees can become a nuisance if they grow too big and block light or take up too much space. In some cases, our clients want the tree removed completely which we are able to do. Other reasons why this may be the case is if the ground is being developed and hence is causing an obstruction. Removing a large tree will also increase the nutrient availability in the soil for the surrounding plants and trees enabling them to flourish. 
Removing trees can be a highly dangerous undertaking, to minimize the associated risks, you can be assured our team here at C & H Tree Surgery is continuously trained and kept abreast with the latest safety measures to ensure the safety of our team, you, and the wider general public. 
Tree Pruning Newton Ferrers
We offer an extensive range of tree pruning services that are suitable for trees depending on the tree type and your requirements. Our tree pruning services are often used if there is a troublesome branch that is at risk of falling off and causing injury, we are able to remove the branch safely. Trees can be significant blockers of natural light, this can be problematic if it means your outside space is in the shade. Our skilled team can prune the tree to ensure sufficient light gets through however still making sure it looks healthy and thriving. We offer a comprehensive range of tree pruning techniques: 
• Crown Lifting.
• Crown Reduction.
• Crown Thinning.
• Pollarding.
• Canopy Lifting.
• Deadwooding.
Stump Removal Newton Ferrers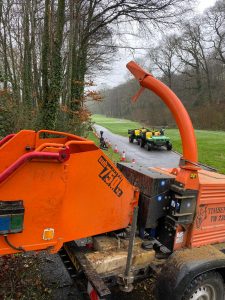 Stump removal is often the preferred option if you have development plans for the landscape. Our knowledge and extensive equipment mean we will remove the stump fully allowing the ground to be built on without the risk of structural issues later down the line. The stump is completely removed to ensure fungal growth and disease won't spread to the surrounding plants. Stumps are also removed if they cause a trip hazard or are unsightly, however it is sometimes the case that our clients want a piece of garden furniture carving from a stump. We are able to meet any requirements such as a table or garden seat. 
Garden Clearances Newton Ferrers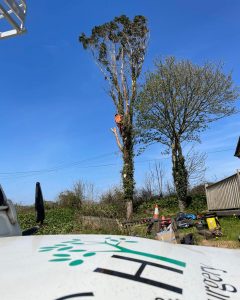 Many people enjoy spending time in their garden however it can be time-consuming to keep well maintained and tidy. If this is the case, you can access our garden maintenance and clearance service which will give your garden a new lease of life. Through our clearance service, we can remove general waste, garden waste and remove any overgrown plants. The waste is disposed of through the correct channels and recycled wherever possible.  If you plan on developing the garden further such as adding furniture, an outbuilding, or water features, our team will be able to advise how best to go about this.
Contact Us Today
C & H Tree Surgery – your local tree surgeon in Newton Ferrers – are your local garden and tree, surgery specialists. With many years in the industry, we consider ourselves to be the best on the market, take a look at our testimonials and customer reviews to see how we have helped people with their land maintenance previously.
All work is completed in a timely manner to cause minimum disruption to you and your neighbors, we also operate with safety at the forefront of our minds. To find out about any of our services or to receive a free no-obligation quote, use the contact form or call us directly on 01752 881036 where our customer advisors will be happy to help.
We Offer a Variety of Tree Surgery Services
We work on a broad variety of species of trees broad leaf or conifer, even your garden shrubs, ornamental or fruit trees.
Please check out our Instagram at the bottom for our latest projects completed.
Want to keep warm in the winter, why not ask us about our seasoned barn dried logs.
From stump grinding and removal to barn dried logs and decking

"
"Great job on my tree's gentlemen.
Best they have looked.
I would definitely recommend you to family and friends.
10/10!"

"
Absolute legends, Chris and his team dropped everything to help out in removing some seriously large stumps, would highly recommend great guys and very helpful

"
"
Absolutely fantastic service from this team. They undertook a huge job on a very busy estate for me. Professional, clean & tidy, friendly and polite chaps. The only tree surgeons I would use in the south west! Thanks so much!!

"
Start You Project
If you have any questions, would like some advice before starting work or are ready to get your project started today, please fill out the contact form, or call Chris.
6 Orchard Rd, Brixton, Plymouth PL8 2FE