Tree Surgeon Torpoint
Established for many years now, C & H Tree Surgery is your local tree surgeon in Torpoint. We offer a range of services with all areas of tree surgery covered, from expert tree removals, tree pruning or garden clearances, and general garden maintenance.
Our team is fully trained, accredited and has the required experience to complete tree surgery and maintenance to the highest quality.
C & H Tree Surgery offers free quotes for any proposed work, our team will be able to advise not only the cost but also what processes will be required and how best to approach the site. 
Tree Removal Torpoint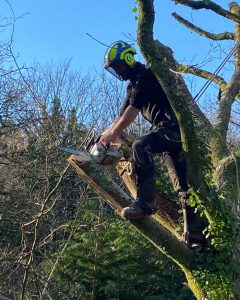 Tree removals are an important part of any ground maintenance. As trees age and their size increases, they can cause obstruction to a view or need removing for the development of an area. Trees can also be a hazard to homeowners or the general public if they have a disease and therefore their structural integrity can be compromised. Removing trees can also hugely benefit the surrounding trees and plants by allowing an increased nutrient availability resulting in a flourishing environment.
Removing trees is one of the highest risk jobs we undertake, to alleviate the associated risks as much as possible to ensure the safety of both the general public and our team, we have several measures in place. Our team is fully equipped with the knowledge and required training, as well as going on regular health and safety courses to keep the content fresh in their mind. Our team is also highly experienced so is the best place to perform tree surgery and maintenance safely and to a high standard.
Tree Pruning Torpoint
Tree pruning is an essential activity to keep trees looking neat, tidy as well as healthy. C & H Tree Surgery in Torpoint offers a tree pruning service that is best accessed on a proactive rather than a reactive basis as this will avoid the tree becoming too overgrown and unsightly. We can prune any type of tree from large trees to garden hedges. We offer a comprehensive range of tree pruning techniques: 
• Crown Lifting.
• Crown Reduction.
• Crown Thinning.
• Pollarding.
• Canopy Lifting.
• Deadwooding.
Stump Removal Torpoint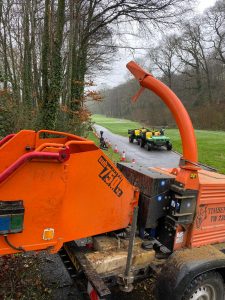 As part of the full tree removal service, the stump of the tree will also have to be removed. The stump can pose a hazard to you or the general public,  it will also interfere with any further development plans so the stump will most definitely need removing if you wish to build on the land where the tree or stump is.
We use specialist machinery to grind the stump down ensuring it is completely removed to make sure fungal growth or disease won't start growing on any remnants. Our stump removal service is available to access separately from our tree removal service if you have managed to remove the bulk of the tree yourself.
Garden Clearances Torpoint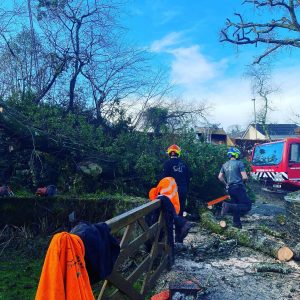 C & H Tree Surgery also provides garden clearances in Torpoint. Gardens bring many people happiness and a place to relax outside. If you have an outbuilding such as a shed or greenhouse and would like it removed, we offer a removal service where we will deconstruct and dispose of it through the correct channels. We can also remove large amounts of garden waste and make your garden space enjoyable to be in again. We can recommend how best to approach a garden project and will complete any work to a high standard and in a timely manner.
Contact Us Today
C & H Tree Surgery – your 5-star rated tree surgeon in Torpoint and the surrounding areas, are your go-to skilled, reliable, and reasonably priced tree surgeons. We have a number of excellent reviews to our names which has only been achieved through providing a high-quality service too often returning customers.
We complete all work in a timely manner to cause minimal disruption to you and your neighbors. Get in touch today for a free no-obligation quote for any proposed work, either call us directly on 01752 881036 or use our contact form, and our friendly team will get back to you as soon as possible.
We Offer a Variety of Tree Surgery Services
We work on a broad variety of species of trees broad leaf or conifer, even your garden shrubs, ornamental or fruit trees.
Please check out our Instagram at the bottom for our latest projects completed.
Want to keep warm in the winter, why not ask us about our seasoned barn dried logs.
From stump grinding and removal to barn dried logs and decking

"
"Great job on my tree's gentlemen.
Best they have looked.
I would definitely recommend you to family and friends.
10/10!"

"
Absolute legends, Chris and his team dropped everything to help out in removing some seriously large stumps, would highly recommend great guys and very helpful

"
"
Absolutely fantastic service from this team. They undertook a huge job on a very busy estate for me. Professional, clean & tidy, friendly and polite chaps. The only tree surgeons I would use in the south west! Thanks so much!!

"
Start You Project
If you have any questions, would like some advice before starting work or are ready to get your project started today, please fill out the contact form, or call Chris.
6 Orchard Rd, Brixton, Plymouth PL8 2FE