Tree Surgeon Woolwell
C & H Tree Surgery is your local and reliable tree surgeon in Woolwell offering a high-quality and reliable tree surgery service. Having been in the business for over many years, it's safe to say our team is dedicated and has the knowledge and know-how to manage your garden or any outside space. All aspects of tree surgery are covered including tree removal, pruning, and furniture carving. Our services aren't limited to tree surgery as we also offer garden maintenance and clearance service. If you are interested in any of the services we offer, call us directly today on 01752 881036.
Tree Removal Woolwell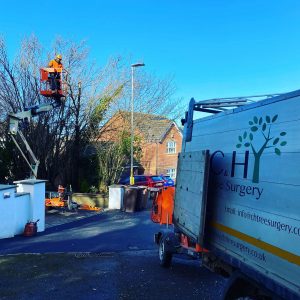 One of our most popular services is our Tree removals service. We remove trees fully using the latest techniques and operating under the most up-to-date safety measures. Trees sometimes have to be removed, for example, if the land is being developed or if it is obstructing a view or blocking natural light. Other reasons include if the tree is diseased, it can spread and therefore significantly damage the surrounding plants and area. By removing a large tree, you are also increasing the nutrient availability for other trees and foliage hence allowing them to flourish.
Due to the high-risk nature of tree removal, our team takes all necessary precautions and is fully equipped with knowledge of the latest safety methods. Safety is our number 1 priority however we also work efficiently to cause you and your neighbors as little disruption as we can.
Tree Pruning Woolwell
C & H Tree Surgery in Woolwell offers a range of tree pruning services that are suitable for all types of trees and requirements. Our advisors will be able to advise what type of pruning will work best, this can all be discussed before the job so you will have a quote and timescale in place. Our tree pruning service is best accessed proactively to keep the trees healthy and in the best shape. We use the following pruning techniques, one or multiple can be used for a single job: 
• Crown Lifting.
• Crown Reduction.
• Crown Thinning.
• Pollarding.
• Canopy Lifting.
• Deadwooding.
Stump Removal Modbury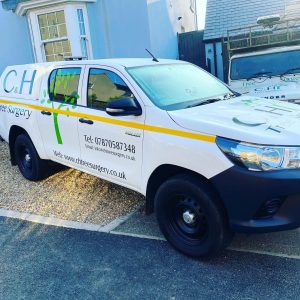 Stump removal follows tree removal. The stump must be removed fully to ensure no further growth occurs and the stump doesn't become diseased. The stump can also pose a trip hazard if not removed promptly so we often remove the stump on the same day as the tree removal. We remove the stump by grinding it down to remove it completely, this guarantees the land can be built on or other plants and foliage will naturally grow over where the stump was. 
Sometimes our clients wish for the stump to be shaped into a piece of garden furniture such as a table or bench. Our skilled team can complete any carvings then treat the wood to ensure its longevity.
Garden Clearances Woolwell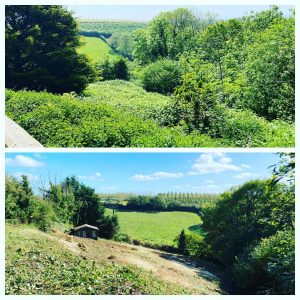 Your garden can essentially be an additional room on your property that can be developed and enjoyed. Clearing a garden and developing it can be a time-consuming job and can be a daunting job if you don't know where to start. C & H Tree Surgery is here to help with our comprehensive garden clearance and maintenance service. Our team will carefully listen to your requirements and complete work on time so you can enjoy your garden again. All waste is disposed of through the correct channels and recycled wherever possible.  
Contact Us Today
C & H Tree Surgery operates with quality and safety in mind, take a look at some of our testimonials and customer reviews for a taste of what you can expect when you access our tree surgery or land management services.
We are both reliable and reasonably priced so look no further than C & H Tree Surgery in Woolwell, call us today directly on 01752 881036, or alternatively, use our contact form and our tree surgeons in Woolwell will get back to you as soon as possible.
We Offer a Variety of Tree Surgery Services
We work on a broad variety of species of trees broad leaf or conifer, even your garden shrubs, ornamental or fruit trees.
Please check out our Instagram at the bottom for our latest projects completed.
Want to keep warm in the winter, why not ask us about our seasoned barn dried logs.
From stump grinding and removal to barn dried logs and decking

"
"Great job on my tree's gentlemen.
Best they have looked.
I would definitely recommend you to family and friends.
10/10!"

"
Absolute legends, Chris and his team dropped everything to help out in removing some seriously large stumps, would highly recommend great guys and very helpful

"
"
Absolutely fantastic service from this team. They undertook a huge job on a very busy estate for me. Professional, clean & tidy, friendly and polite chaps. The only tree surgeons I would use in the south west! Thanks so much!!

"
Start You Project
If you have any questions, would like some advice before starting work or are ready to get your project started today, please fill out the contact form, or call Chris.
6 Orchard Rd, Brixton, Plymouth PL8 2FE